How are Sea Lamprey Controlled?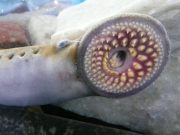 Type: Talk or Demonstration
Description:
The sea lamprey is an incredibly destructive invasive species, but the good news is they can be controlled. Sea Lampreys spend a significant portion of their lives in tributaries as filter feeding larvae, so sea lamprey control begins when biologists assess tributaries to determine which ones contain larval sea lampreys. Larval assessment is critical in determining the presence, distribution, size structure, and abundance of larval sea lampreys in infested tributaries. The primary method to control sea lampreys is the application of the lampricide. Come see real lampreys in person!
Presented by:
Ross Shaw , Communications Associate , Great Lakes Fishery Commission
Ted Lawrence , Great Lakes Fishery Commission
Ages: All Ages
Scientific Disciplines:
Plant and Animal Sciences
For more information:
Read more about How are Sea Lamprey Controlled? (external site)
Time and Location
Date/Time: 4/25/2020 1:00 - 6:00 PM

Location:
Charles H. Wright Museum of African American History
315 E. Warren Avenue
Detroit, MI 48201
View on Google Maps